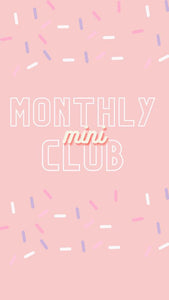 Welcome, friends! 
Tamara's Teaspoons is now offering a monthly subscription plan for all things miniature, so you can begin your collection! This is a great way to keep building your miniatures sustainably, while also supporting a local handmade artisan!
How it works: 
1. Each month you will receive a themed Tamara's Teaspoons handmade miniature, corresponding to that month or holiday that falls within that month. Monthly Minis will be a surprise each time. For example: You will receive either a charm on a lobster clasp, or a pin, or even a pair of earrings. 
2. Shipping to CANADA/USA is included in the price, and will be a non-tracking option (to keep costs low for you!) For international shipping, you will be required to pay the shipping costs. 
3. Cost: The subscription plan will be $20/month. Orders will be shipped out a maximum of 3-5 business days after your subscription. 
4. Payments will be taken monthly, and you can CANCEL ANYTIME! 
5. Enjoy exclusive discounts, tips, tutorials and occasional giveaways from me when you're apart of the club!