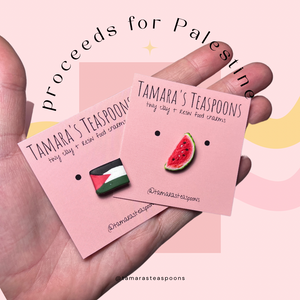 Support Palestine with some Pins!
Handmade polymer clay Palestinian flags and Watermelons. Proceeds go toward an on-the-ground charity organization helping civilians in Gaza . 


IMPORTANT: 
Due to the INCREDIBLE support from my INCREDIBLE customers, I have had to limit my orders for the Palestine pieces until after the holidays because of my markets and Christmas orders
Any and all orders from this collection will be processed after December 15th.
From the bottom of my heart, thank you for your continuous support. 

25% of Profits go toward Muslims Around the World Project - an on the ground charity in Gaza helping victims. This has been a HUGE honour. I will not stop! Im just taking a brief pause! 
The Palestinian watermelon has become a public expression of cultural pride in artworks representing the struggle against Israeli apartheid.
After the Six-Day War in 1967, the Israeli government banned all public displays of the Palestinian flag and its colors. Any outward show of the flag, from publications to advertisements and even old photographs, could result in imprisonment or worse. Watermelon — with its red, green, black, and white coloring — became a subtle method for Palestinians to display national pride. Even holding a slice of fresh watermelon outside became an act of protest.
source: https://hyperallergic.com/666111/how-watermelon-became-a-symbol-of-palestinian-resistance/