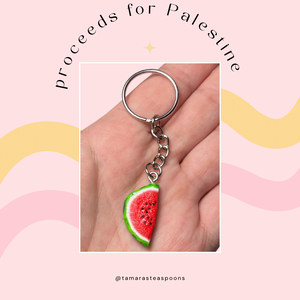 IMPORTANT: 
Due to the INCREDIBLE support from my INCREDIBLE customers, I have had to limit my orders for the Palestine pieces until after the holidays because of my markets and Christmas orders
Any and all orders from this collection will be processed after December 15th.
From the bottom of my heart, thank you for your continuous support. 

25% of Profits go toward Muslims Around the World Project - an on the ground charity in Gaza helping victims. This has been a HUGE honour. I will not stop! Im just taking a brief pause! 

Handmade polymer clay 2D watermelon charm on keychain. 
The back side of watermelon is plain. 


Due to high volume and the handmade details, processing time for this order is approximately 5 days before shipping.